Accelerated
Building Blocks

with

Intel GPUs
A specialized range of accelerators for a wide range of workloads from high-density
visual processing
to cloud scale
AI training
HPC-Optimized Systems and Solutions Based on Intel® Data Center GPU Max Series (formerly codenamed Ponte Vecchio)
Maximum Compute Density for AI Training & Inferencing and Visualization
Designed for scale-up and scale-out HPC and Visualization workloads, the new Intel Data Center GPU Max Series is Intel's highest density GPU and can be integrated into a range of Supermicro systems for maximum accelerated compute performance.
PCIe form factor supporting up to 300W TDP, with future iterations to support Open Accelerator Module (OAM) for even greater power and performance
408MB of L2 cache and 64MB of L1 cache to increase throughput
The industry's only HPC/AI GPU with native ray tracing acceleration
Direct interconnect of up to 4 GPUs via Xe Link bridges
Optimized to work with 4th Gen Intel® Xeon® Scalable processors including Intel Xeon Max CPUs
HPC-Optimized
Maximum GPU capacity for and flexibility for intensive HPC and AI applications with up to 10 GPUs in a 4U chassis
GPU: Up to 10 Intel® Data Center GPU Max Series (in PCIe 5.0 x16)
CPU: Dual 4th Gen Intel® Xeon® Scalable Processors
Memory: 32 DIMMs; up to 8TB DDR5, support for with Intel® Optane® Persistent Memory
Drives: 8x 2.5" SAS/SATA hybrid + 8x 2.5"
U.2 NVMe direct to CPU + 8x 2.5" U.2 NVMe
direct to storage (optional)
Optimized for Large-Scale AI Training, Generative AI and HPC
GPU: 8 Intel® Data Center GPU Max 1550 (600W) OAM (Codenamed Ponte Vecchio)

Performance: 6.7 petaFLOPS FP16/BF16
GPU memory: 1TB HBM2
GPU memory bandwidth: 3,276.8 GB/s
GPU to GPU interconnect: 742 GB/s XeLink Scale Up Bandwidth
Open ecosystem with oneAPI

CPU: Dual 4th Gen Intel® Xeon® Scalable Processors
Memory: 32 DIMM slots; up to 8TB DDR5
Drives: Up to 24 hot-swap 2.5" NVMe/SATA
Support for GPU/CPU air cooling and liquid cooling
Introducing Intelligent Visual Processing Solutions Based on Intel® Data Center GPU Flex Series (formerly codenamed Arctic Sound-M)
For Media Processing & Delivery, Transcoding, Cloud gaming, AI Visual Inferencing
As demand for media and game streaming and visual inferencing continues to increase rapidly, organizations need efficient, scalable solutions that can deliver services to thousands to millions of concurrent users without affecting quality or latency. Supermicro's accelerated computing solutions feature the new Intel Data Center GPU optimized for media and cloud workloads.
Intel GPUs support an open, standards-based software stack optimized for density and quality with critical server capabilities for high reliability, availability and scalability in media processing, media delivery, AI visual inference, cloud gaming and virtualization.
Watch the TechTalk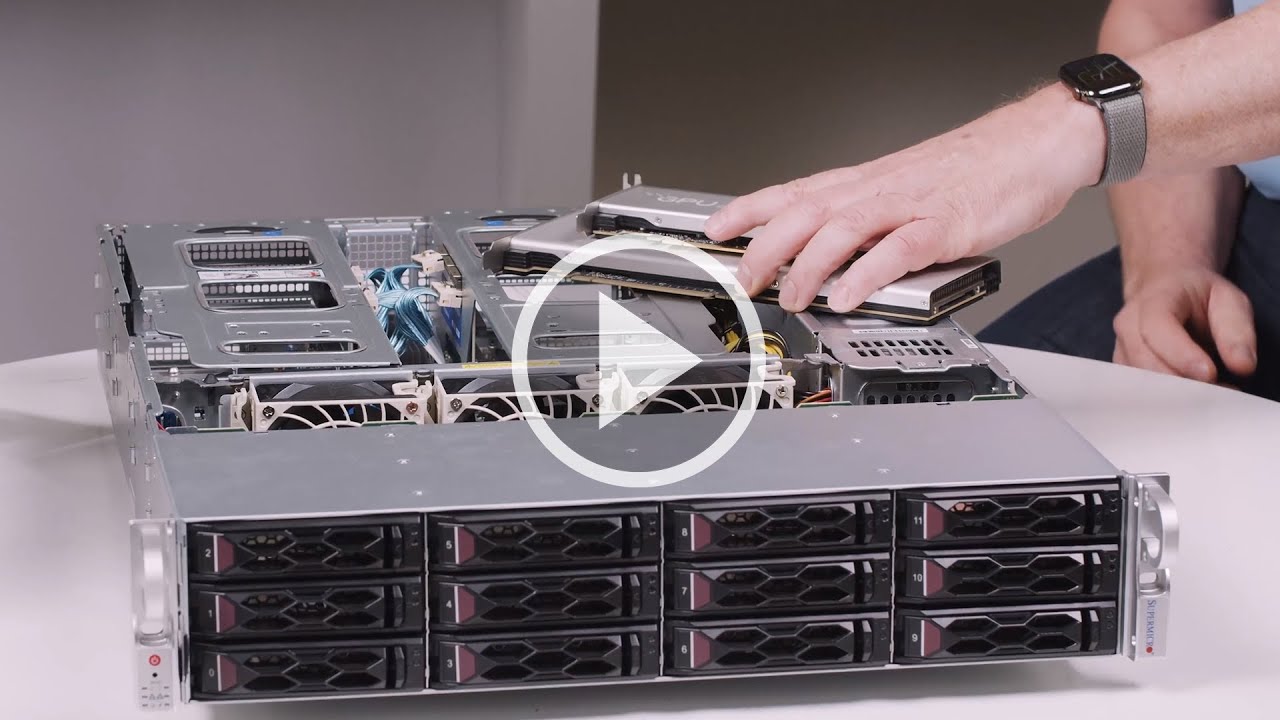 Supermicro's Senior Director, Technology Enablement Thomas Jorgensen sits down to discuss the unique advantages of Supermicro systems based on Intel Data Center GPU Flex Series.
Solution Brief
Supermicro and Intel collaborated to deliver outstanding performance for a large-scale cloud gaming platform establishing over 560 1080p @60Hz transcoded streams per system.
4K Streaming Demo
This video demonstrates Supermicro's real-time 4K video streaming solution using Intel Data Center GPU Flex Series, with up to 8 simultanous streams from a single GPU.
4/8U Purpose-Built AI Solutions with Habana Gaudi AI Processors and SynapseAI Software
For Cloud Scale AI Training
Demand for high-performance AI/Deep Learning (DL) training compute has doubled in size every 3.5 months since 2013 (according to OpenAI) and is accelerating with the growing size of data sets and the number of applications and services based on computer vision, natural language processing, recommendation systems, and more. With the increased demand for greater training performance, throughput, and capacity, the industry needs training systems that offer increased efficiency, lower cost, ease of implementation, flexibility to enable customization, and scaling of training systems. AI has become an essential technology for diverse areas such as virtual assistants, manufacturing operations, autonomous vehicle operations, and medical imaging, to name a few. Supermicro has partnered with Habana Labs to address these growing requirements.
AI Training Optimized
The Supermicro X12 Gaudi AI Training System prioritizes two key real-world considerations: training AI models as fast as possible, while simultaneously reducing the cost of training with unprecedented scale-out bandwidth.
GPU: 8 Gaudi HL-205 mezzanine cards
CPU: Dual 3rd Gen Intel® Xeon® Scalable Processors
Memory: 32 DIMMs: up to 8TB registered ECC DDR4-3200MHz SDRAM
Drives: 4 hot-swappable NVMe/SATA hybrid hard drives
Power: 4x 3000W Titanium Level redundant power supplies
Networking: 24x 100GbE RDMA (6 QSFP-DDs)
Workloads: AI Training and Inferencing
Computer Vision Applications:
Manufacturing defect detection, resulting in better products with fewer warranty issues
Fraud detection, saving billions of dollars annually
Inventory management, allowing enterprises to become more efficient
Medical imaging to detect abnormalities
Identification of photos and videos to enhance security
Language Applications
Question answering
Subject matter queries
Chatbots and translations
Sentiment analysis for recommendation systems
Supermicro Gaudi®2 AI Training Server (SYS-820GH-TNR2)
Building on the success of the original Supermicro Gaudi AI training system, the Gaudi2 AI Training Server prioritizes two key real-world considerations: integrating multi AI training system to analyze diverse AI models faster, while simultaneously multiple scalability function and price advantages.
GPU: 8 Gaudi2 HL-225H mezzanine cards
CPU: Dual 3rd Gen Intel® Xeon® Scalable processors
Memory: 32 DIMMs - up to 8TB registered ECC DDR4-3200MHz SDRAM
Drives: up to 24 hot-swappable hard drives (SATA/NVMe/SAS)
Power: 6x 3000W High efficiency (54V+12V)
Networking: 24x 100GbE (48 x 56Gb) PAM4 SerDes Links by 6 QSFP-DDs
Expansion Slots: 2x PCI Gen4 switches
Workloads: AI Training and Inferencing
Habana Gaudi AI Training System Specifications
X12 Gaudi AI Training Server
Gaudi2 AI Training Server
Processor Support
Dual 3rd Gen Intel® Xeon® Scalable processors, Socket P+ (LGA-4189), up to 270W TDP
Dual 3rd Gen Intel® Xeon® Scalable processors, Socket P+ (LGA-4189), up to 270W TDP
Serverboard
X12DPG-U6
X12DPG-OA6-GD2
System Memory
32x DIMM slots, 3200/2933/2666MHz ECC DDR4 RDIMM/LRDIM
32x DIMM slots, 3200/2933/2666MHz ECC DDR4 RDIMM/LRDIM
AI Processors
8x Habana Gaudi AI processors on OAM mezzanine cards, 350W TDP, passive heatsinks
8x Habana Gaudi2 AI processors on OAM mezzanine cards, 600W TDP, passive heatsinks
Expansion Slots
Dual x16 PCIe AIOM (SFF OCP 3.0 superset) plus single x16 PCIe 4.0 full height, half-length expansion slot
Dual x16 PCIe 4.0 Full height, Dual x8 PCIe 4.0 Full height
Connectivity
1x 1GbE dedicated IPMI LAN via RJ45, 6x 400Gb QSFP-DD ports, 2x USB 3.0
1x 1GbE dedicated IPMI LAN via RJ45, 6x 400Gb QSFP-DD ports, 2x USB 3.0
VGA/Audio
VGA via BMC
VGA via BMC
Drive Bays
4x internal 2.5" hot-swap NVMe/SATA/SAS Drive Bays.
4x 2.5" hot-swap NVMe, 8 x SATA, 8 x SAS Drive Bays.
Storage
2x M.2 NVMe OR 2x M.2 SATA3
2x M.2 PCIe 3.0 x4 slots
Power Supply
4x 3000W redundant power supplies, 80+ Titanium level
Tested power draw: 4922W

*

6x 3000W High efficiency (54V+12V)
Tested Power draw: 5750W

*

Cooling System
5x removable heavy-duty fans
12x removable 8cm fans
Operating Temperature
10°C ~ 35°C (50°F ~ 95°F)
10°C ~ 35°C (50°F ~ 95°F)
Form Factor
178 x 447 x 813mm (7" x 17.6" x 32")
447 x 356 x 800mm (17.6" x 14" x 31.5")
Weight
Gross weight: 137lbs (62kg)
Gross weight: 282lbs (128kg)
Tested configuration

*

2x Intel® Xeon® Platinum 8368 Processor: 38 cores, 76 threads, 2.4 GHz
32x 128GB DDR4 4RX4 RDIMM
2x AOC-A100G-b2CM AIOM 2-port 100 GbE QSFP28
1x AOC-S100G-b2C 2-port 100 GbE QSFP28
4x 1.2TB Intel SSD DC P3500 Series NVMe + 2x NVMe M.2

2x Intel® Xeon® Platinum 8380 Processor: 40 cores, 80 threads, 2.3 GHz
32x 64GB DDR4 4RX4 RDIMM
2x AOC-S100G-b2C PCIe 2-port 100 Broadcom BCM57504 GbE QSFP28
1x AOC-SGP-I2 PCIE 2-port i-350 1GbE RJ45
1x 7.6TB Samsung PM9A3 7.6TB NVMe + 1x Intel 960G SSD